Black Angelica and Eve Angel
We promised you that there would be more houseoftaboo scenes featuring an all babe cast and here they are. WE have more sexy subs dominated by some sexy and hot mistresses and the names of the two ladies getting to play this fine day are Black Angelica and Eve Angel. Miss Angelica gets her first name as a nickname from her personal style. She likes to wear all black latex and lace clothing and even fishnets too, but they have to be all black. Well Eve isn't too far behind in the kinky clothing department, but she has no preference for color. Today she gets to be a naughty nurse that gets punished in the personal dungeon of the domme.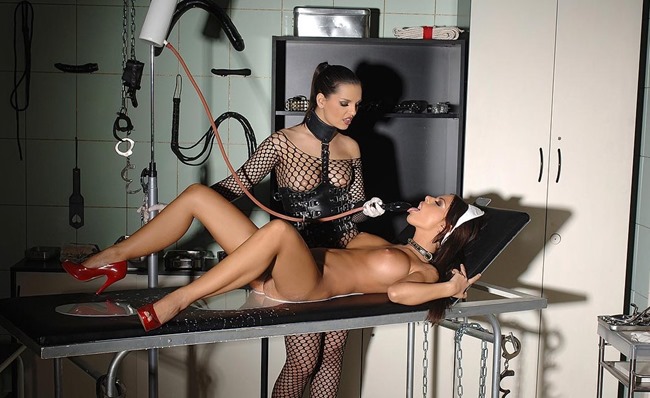 Like we said earlier, this mistress has her very own little dungeon. And as you can see, she has lots of stuff strung around the walls that she likes to use on occasion. Today though, she gets to punish her naughty sub as she seems to have made a mess with some milk on her special bed in the play room. First order of business is some kinky spanking as Eve needs to learn her lesson. The thing is that it's all pleasure play after that as Angelica is ny far the heartless mistress that she seems to be. So check her out teasing her slave today and then see her pleasing her pussy with her very masterful fingers and other toys. Bye bye for now!