Suspended and Helpless
Today's fresh and new house of taboo scene is sure to entice you all as we get to see some S&M lessons with two very beautiful babes and two very experienced guys. All four of them are here to teach you the basics and to start off, the all brunette couple, the babe is the sub and the guy is the dom. On the other side, the red hair babe is the mistress and the guy with the suit is her sub. They are here to put into perspective the roles that are taken during this type of kinky and wild role-play. So let's not delay their scene any longer as it's a pure delight to get to see them all at play this fine day shall we?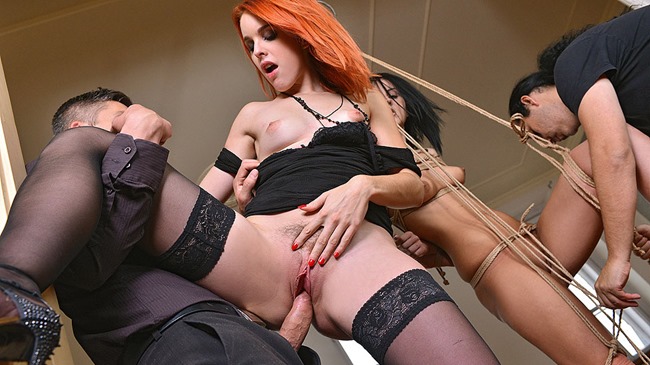 Rest assured that these four are houseoftaboo experts and they know what they are doing. Also we forgot to mention but you also get to see some rope play too. First off you can see the superb and sexy red haired minx of a mistress as she orders her sub around and she has him pleasing her pussy for the entire duration of their spot. Then the other two take center stage and you get to see the brunette babe with shoulder long black hair as she gets tied up nicely. Of course she also gets a nice and long teasing session until she begs her master for some pleasure and it's time to reward her as she did a good job herself. Take your time with it and we'll see you next week!